St Valentine's Day
By Christine Lovatt
There are probably more quotes about love than any other topic, and why not, when love is what makes the world go round?

With St Valentine's Day this week, there's no better time to read what famous people have said about love:

It's easy to halve the potato where there's love

Irish proverb

You can't blame gravity for falling in love
Albert Einstein

If you would be loved, love and be lovable
Benjamin Franklin

When you are in Love you can't fall asleep because reality is better than your dreams
Dr Seuss

Love: a temporary insanity, curable by marriage
Ambrose Bierce

Better to have loved and lost, than to have never loved at all
St. Augustine

To love another person is to see the face of God
Victor Hugo

A kiss is a lovely trick designed by nature to stop speech when words become superfluous
Ingrid Bergman

At the touch of love everyone becomes a poet
Plato

Happy Valentine's Day!
Christine
NOTE FROM JESSIE: I just had to share this article and pic with you - Happy Valentine's Day lovelies!


Lovatts give commuters a 'handy' relief

NSW Central Coast rail commuters were feeling the love on Valentine's Day when Lovatts Media Group gave away over 500 'Handy' puzzle magazines and pencils to train passengers as they embarked on their daily commute from Gosford to Sydney.

A Lovatts cupid braved the early morning chill to bring a few smiles to commuters, wishing them a Happy Valentine's Day.

Those lucky enough to be struck by Cupid's arrow each received a copy of the magazine to stir the senses on the early morning trip, with one lucky recipient also winning an edible bouquet of 24 chocolate roses.

Brand Manager Dominic Lovatt was on hand to speculate about the potential for a railway romance: "Over the years we've heard from hundreds of couples who have bonded over a mutual love of solving puzzles. Forget the clichéd flowers and champagne, the key to a long-lasting relationship is a sharp intellect and a shared passion."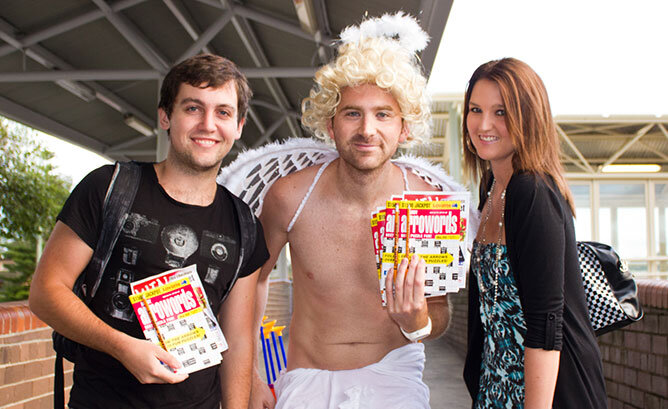 8 Responses to
St Valentine's Day